These holiday treats can be yours when you use PRU Access or Pulse!
Earn raffle entries for every transaction*:
| | |
| --- | --- |
| PRUServices | PRUAccess |
| Link Policy | Create Account |
| Update mobile number or e-mail address | Update mobile number or e-mail address |
| Pay Premium | Pay Premium |
*1 transaction per platform = 1 raffle entry

Learn More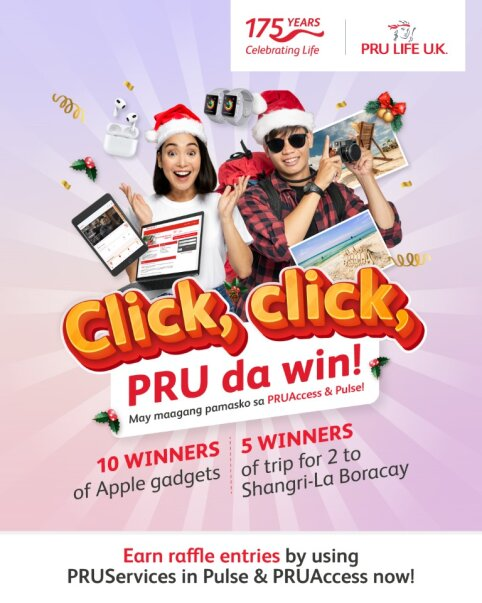 Pulse

FAQs
What is Pulse?
Pulse is Pru Life UK's AI-powered health management app. It aims to empower its users to take control of their wellbeing with tools like Healthcheck which gives users a glimpse of their overall health, and Symptom Checker which allows them to look into what they are currently feeling.
Where can Pulse be downloaded?
Pulse can be downloaded for free through the Google Play Store or the Apple App Store.
Is Pulse free to download?
Yes, Pulse is free to download.
I have forgotten my password? How do I unlock my account?
Please follow the steps below:
Click on 'Forgot Password'.

Type the email address registered in Pulse.

Wait for the temporary password in your registered email.

Log in using the temporary password.

Change the temporary password to your preferred password.
My Pulse app does not seem to be working?
Ensure you have a stable internet connection.

Check Google Play Store or the Apple App Store for updates.

Restart your Pulse app and log in.

If the problem persists, restart your device. You may also need to uninstall and reinstall the app.
Can I update my profile in Pulse (gender, country code, phone number, and email address?)
For now, the following details – gender, country code, phone number, and email address are not editable in Pulse. These fields will be editable soon.
What are the minimum system requirements to download Pulse?
For the best Pulse app experience, your device must be at least one mobile operating system (OS) version lower from the current available version.
I am unable to download the Pulse app or view the Pulse app in Google Play Store/Apple App Store, what should I do?
Please change the region in Google Play Store or the Apple App Store to the Philippines, then search Pulse.
For Apple App Store
Open the Apple App Store

Go to Account

Click Apple ID (email address)

Click Country/Region

Select Philippines
For Google Play Store
Open the Play Store app on your Android device.

Slide out the left menu and select Account.

Check the Country and profiles entry in the menu, if you have access to the country-switching option

Tap this Country category and select your new country.
If Pulse is still not searchable, please provide the following and send it to to PRU Customer Action Team at contact.us@prulifeuk.com.ph.
Name

Email address

Date of Birth

Phone model

OS version

Screenshot of the error
My touch ID was not recognized, what can I do about this error?
Please check your mobile device fingerprint security and try again.
Buy products in Pulse
(Learn more about products)
Use Pulse
and earn points for vouchers
Easily earn points when you play games, answer quizzes and surveys.

Participate in surveys about health, nutrition, fitness and overall wellness
Accomplish surveys and get a chance to win points

Answer quizzes about insurance, investments, subscriptions and more
Win points when you get all answers correct

Play mini games
Slice the apple, hit the pinata or shake the tree to earn points
Pulse

legal information
Terms and Conditions
By registering for the Pulse App you enter into an agreement with us as set out in these terms and conditions.
Read the full Pulse Terms and Conditions
Privacy notice
Your privacy and the security of your personal data is, and will always be, very important to us. So, we want to transparently explain how and why we gather, store, share and use your personal data.
Read the full Pulse Privacy Notice