Newsroom
BSP Affirms Industry's Role in
Advancing Financial Inclusion
Benjamin Diokno recently graced the first anniversary virtual celebration.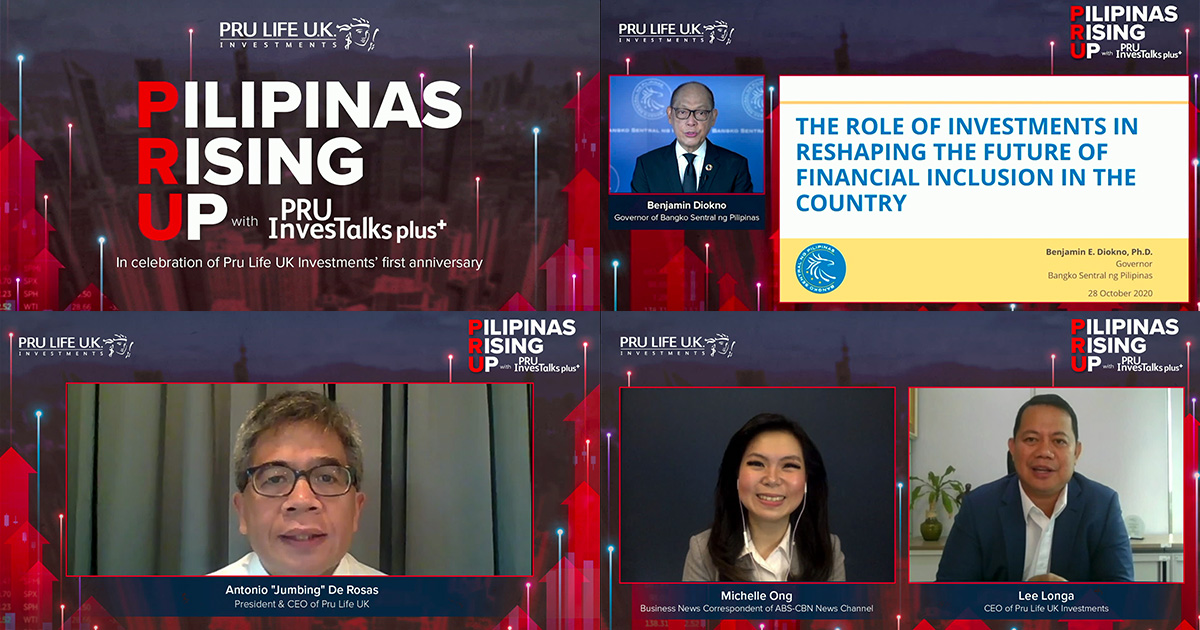 Pilipinas Rising Up speakers (left to right) Pru Life UK President and CEO Antonio Jumbing De Rosas, BSP Governor Benjamin Diokno, Pru Life UK Investments President and CEO Lee Longa with ANC Philippines media correspondent Michelle Ong.
Bangko Sentral ng Pilipinas (BSP) Governor Benjamin Diokno recently graced the first anniversary virtual celebration of Pru Life UK Investments, the asset manager of leading life insurer Pru Life UK. As part of the month-long celebration, the webinar titled "Pilipinas Rising Up!" discussed the role of investments in reshaping the future of financial inclusion in the country. The event was attended by over 1,500 people, including customers, agents, business partners, subject matter experts, industry practitioners.
"We are honored to have the opportunity to share insights and exchange best practices with Gov. Diokno in advancing financial inclusion in the Philippines. In line with our 'We DO Wealth' commitment, we are eager to play a bigger role to enhance the financial wellbeing of our customers through Pru Life UK Investments and its selection of funds that cater to their long-term savings needs," says Pru Life UK President and CEO Antonio "Jumbing" De Rosas.
In the webinar, BSP Gov. Diokno reiterated that investing is one of the best options for Filipinos to secure and grow their wealth. He highlighted the investment industry's crucial role in pushing for financial inclusivity, especially in a period of uncertainty. He also shared data on the growth of financial inclusion in the country in the past two years.
Findings from BSP's 2019 Financial Inclusion Survey indicated that account ownership increased to 29 percent from 23 percent in 2017--translating to five million new accounts in just two years. E-money accounts drove the overall growth in account ownership, increasing to 8 percent from a mere 1 percent. Meanwhile, BSP also observed an uptake in other financial services within the same period: formal credit (19 percent from 14 percent), insurance (23 percent from 18 percent), and investment (25 percent from 23 percent). Despite the positive trends, Gov. Diokno stressed that there is much to be done to drive financial inclusion as 54 million Filipinos still do not have any form of investment.
Further to these findings, Gov. Diokno cited that increasing connectivity within the communities and providing a wider array of products and services are substantial efforts to improve Filipinos' financial well-being.
"Financial inclusion has become a compelling strategy for sustainable growth. Investments are critical for realizing financial inclusion as these lead to greater market participation and enterprise opportunities," says Gov. Diokno, after congratulating Pru Life UK Investments on its first anniversary.
Milestones during the first year
Since its launch last year, Pru Life UK Investments' fund portfolio now consists of eight products, each tailored to the clients' risk appetite of conservative, moderate, or aggressive investments. In May 2020, the company launched three new products – PRUInvest PHP Dynamic Equity Fund, PRUInvest PH Equity Index Tracker Fund, and PRUInvest USD Intermediate Term Bond Fund. It currently has over 900 clients serviced by 1,090 certified investment advisors (CIAs).
Meanwhile, it is also the asset manager of Pru Life UK's latest offering--PRULink Equity Index Tracker fund launched in September. The fund aims to provide high potential returns by mirroring the performance of the Philippine Stock Exchange Index (PSEi).
"As we enter our second year of operations, we will continue to provide customers with options to invest their money and diversify their portfolios albeit uncertainties in the financial markets. With support and encouragement from BSP, we are pleased to perform our duty to protect and grow Filipinos' wealth so they can enjoy a financially-secure life," says Pru Life UK Investments CEO Lee Longa.
As part of its celebration, the company earlier conducted "esPRUsso: A Coffee Talk with Pru Life UK Investments CEO Lee Longa" for its CIAs and "PRUInvesTalks Module 4," a virtual learning session hosted by Francis Kong, a renowned business speaker and recipient of the Outstanding Filipino Award in 2014. The latter also featured Pru Life UK Investments CIA Angela Gaw-Flores, who shared her perspectives on being a financial advisor amid the pandemic.
For more information about Pru Life UK Investments, visit www.prulifeukinvestments.com.ph.
---
All funds managed by Pru Life UK Investments are Trust Products. These are not deposit products and are not guaranteed and insured by Pru Life UK Investments, Pru Life UK, nor the Philippine Deposit Insurance Corporation. Any loss/income arising from market fluctuations and price volatility of the securities held by the UITF, even if invested in government securities, is for the account of the client/participant; as such, the units of participation of the investor in the UITF, when redeemed, may be worth more or be worth less than his/her initial investment contributions; historical performance, when presented, is purely for reference purposes and is not a guarantee of similar future result; and the trustee is not liable for losses unless upon willful default, bad faith or gross negligence.
About Pru Life UK Investments
Pru Life UK Investments, registered as Pru Life UK Asset Management and Trust Corporation, is a subsidiary of Pru Life UK, the pioneer and current market leader of 'insuravest' or investment-linked life insurance in the Philippines.
Incorporated in 2018, Pru Life UK Investments offers a superior selection of funds that specifically cater to long-term savings requirements of Filipinos who want to achieve their financial goals through pure investments. These funds are managed by some of the country's top fund managers.
Pru Life UK Investments is regulated by the Bangko Sentral ng Pilipinas (BSP) with contact number +632 8708 7087 and e-mail address consumeraffairs@bsp.gov.ph. BSP may also be accessed via the BSP Online Buddy (BOB) portals:
BSP Webchat - http://www.bsp.gov.ph/
SMS: 021582277 (for Globe subscribers only; for other network subscribers, BOB will also be made available soon)
BSP CAMS Facebook - https://www.facebook.com/BangkoSentralngPilipinas/
For any feedback or inquiries relating to our services and products, you may call our hotline: (632) 8991 0499, send an email to investments@prulifeuk.com.ph, or write a letter addressed to Pru Life UK Investments – Client Management Unit, 2/F Uptown Parade 2, 36th Street, Uptown Bonifacio, 1634 Taguig City, Philippines.
For more information: www.prulifeukinvestments.com.ph