Newsroom
Learn and laugh with social media sensation Mimiyuuuh
as Pru Life UK premieres PRUWise Events
The event will be held on December 18 via Zoom.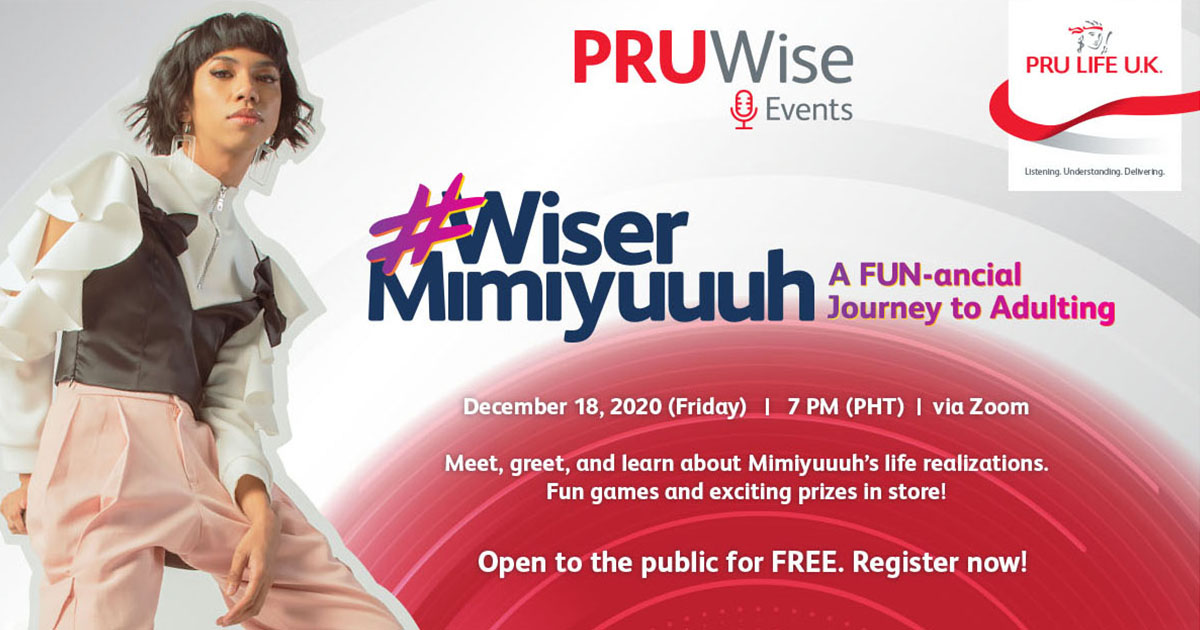 Leading life insurer Pru Life UK will cast for the first time a live stream of PRUWise Events, an initiative under PRUWise, the company's flagship financial literacy program, as it presents #WiserMimiyuuuh: A FUN-ancial Journey to Adulting! with social media sensation Mimiyuuuh on December 18 (Friday), 7 PM, via Zoom.
With this webinar, Pru Life UK continues to champion education in life insurance, investments, finance, and economics, as part of its "We Do Wealth" advocacy.
Attendees are in for a fun night of learning on how to prioritize their finances, assess their financial risk profiles, and jumpstart their wealth goals.
This free, public virtual event will also introduce Mimiyuuuh as the new PULSE Wealth Smarts community member. Users of Pulse, Pru Life UK's health and wealth app, will get the chance to join Mimiyuuuh within the PULSE Wealth Smarts Community, where they will be able to share budget hacks and wise investment guides, get updated about the economy, or simply help each other better understand money matters and how financial literacy can help fulfill one's life aspirations.
Interested attendees may join and register for free through this link.
Download the Pulse app for free on Google Play and Apple App Store. For more information, visit www.prulifeuk.com.ph or the Pru Life UK Facebook page at facebook.com/prulifeukofficial
---
About Pulse
Pulse is an all-in-one digital health app and the first of its kind in the region to offer holistic health management to consumers. Using AI-powered self-help tools and real-time information, the app serves as a 24/7 health and wellness partner to users, helping them prevent, postpone, and protect against the onset of diseases. Pulse is part of Prudential's region-wide strategy to provide affordable and accessible healthcare to everyone across Asia by leveraging digital technologies and best-in-class partnerships.
Following the regional launch of Pulse in Malaysia in August 2019, Pulse is now available in a total of 11 markets in Asia and includes a growing suite of value-add services, such as a symptom checker and health assessment, personal wellness services, and video consultations with certified doctors and specialists.
Since its launch, Pulse has been downloaded more than 14 million times* in Asia. Pulse is currently available on the Apple/Google Play stores in Cambodia, Hong Kong, Indonesia, Laos, Malaysia, Myanmar, the Philippines, Singapore, Taiwan, Thailand, Vietnam.
For more information, and to download Pulse, log onto www.wedopulse.com
*as at December 17, 2020