Newsroom
Pru Life UK advances financial literacy
with Cha-Ching Kid$ at Home webinar
The free webinar aims to teach kids and parents financial management skills.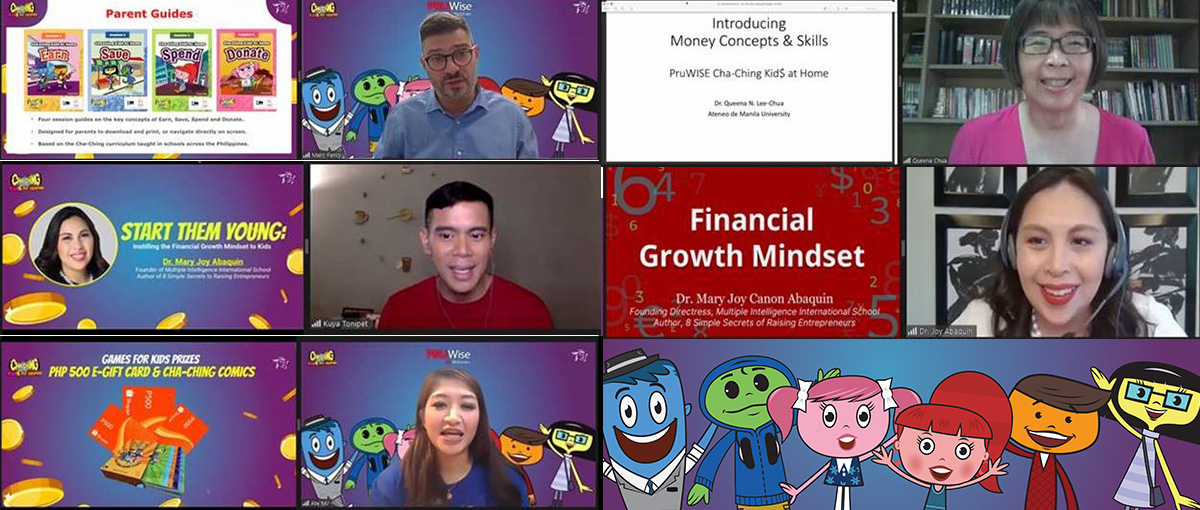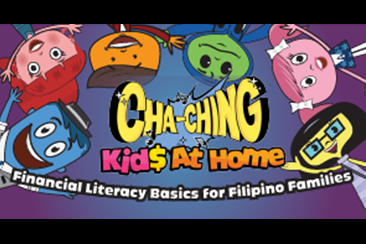 Pru Life UK recently hosted the latest PRUWise webinar, entitled Cha-Ching Kid$ at Home: Financial Literacy Basics for Filipino Families. The expert-led and fun-filled webinar aimed to teach both parents and children the building blocks of a solid financial future.
The webinar was hosted by children's show TV personality Tonipet Gaba and Pru Life UK's Mary Jane Pangan. It featured education and finance experts Dr. Queena Lee-Chua and Dr. Mary Joy Abaquin, who shared their insights on how parents can raise money-smart children at home. Almost 700 parents and children from around and beyond the Philippines joined the virtual event.
"Pru Life UK's advocacy of financial literacy applies to kids as much as it does to parents. We introduced the Cha-Ching Kid$ at Home webinar because we believe in starting the journey to financial wellness at a young age. It provided an avenue for parents to teach their kids essential life skills like money management in an engaging way," says Pru Life UK Senior Vice President and Chief Customer Marketing Officer Allan Tumbaga.
Multi-awarded Ateneo professor and author Dr. Lee-Chua shared tips on how to introduce money concepts to kids. She advised parents to do frequent activities with their kids, from teaching them how much things are and where money comes from. She also encouraged parents to normalize lessons about monthly bills, exchange rates, or distinguishing between needs and wants when kids are older. According to her, "Parents and teachers are the best role models. If we don't practice what we preach, it will be absorbed by our kids."
Complementing her talk was the discussion led by Dr. Abaquin, author and founding directress of the Multiple Intelligence International School. She guided parents through the concepts of financial and fiscal responsibility, saving and investing, and responsible consumerism by making smart spending choices.
"Financial freedom is a mental, emotional, and educational process that all of us have to go through. As parents and teachers let us take an active part in giving our kids this lifelong gift," she said.
The Cha-Ching Kid$ at Home webinar also featured exciting games for kids aged seven to 12 years old about money management. The activities were designed to be an engaging way for children to value money and be careful with their allowance.
Participants estimated the correct cost of school supplies in Guess the Price, while they determined if an item is a necessity in Need or Want? The games were based on existing Cha-Ching Kid$ at Home modules. Game winners received P500 gift cards and exclusive Cha-Ching comics, while one lucky attendee won a brand-new tablet to aid in their home schooling.
"We are happy to supplement the Cha-Ching Kid$ at Home online resources, an initiative developed by Prudence Foundation – the community investment arm of Prudential in Asia and Africa – following its launch last June. The webinar, also done in partnership with Junior Achievement Philippines, reinforces our We DO Education promise, where we aim to teach Filipinos to be money smart. Previously, we worked with schools and institutions to promote financial literacy. Our new work from home setup has pushed us to pivot to digital and give parents an active role in their child's education with simple yet quality resources," shares Tumbaga.
"Financial literacy may be an intimidating topic for both parents and children. This motivated us to develop easy resources for parents to teach and facilitate, and at the same time, make learning fun and enjoyable for kids. Our modules are free and available online for everyone to access," ends Prudence Foundation Executive Director Marc Fancy.
Parents can view online or print out the Cha-Ching Kid$ at Home modules, including parent guides and daily challenges that teach their children the four basic money management concepts– Earn, Save, Spend, and Donate. Modules come with hands-on activities, and music video links. Access the modules at www.cha-ching.com.
---
About Prudence Foundation
Prudence Foundation is the community investment arm of Prudential in Asia and Africa*. Its mission is to secure the future of communities by enhancing education, health, and safety. The Foundation runs regional programs as well as local programs in partnership with NGOs, governments and the private sector in order to maximize the impact of its efforts. Prudence Foundation leverages Prudential's long-term mindset and geographical scale to make communities safer, more secure and more resilient. The Foundation is a Hong Kong-registered charitable entity.
For more information please visit: www.prudencefoundation.com
*Prudential Corporation Asia is a business unit of Prudential plc of the United Kingdom. Neither Prudential Corporation Asia nor Prudential plc are affiliated in any manner with Prudential Financial, Inc., a company whose principal place of business is in the United States of America. In Taiwan and Korea, Prudential Corporation Asia trades under the PCA name for its insurance business. Its asset management business in Asia operates under the name Eastspring Investments.
About Cha-Ching
Cha-Ching is an initiative of Prudence Foundation; the community investment arm of Prudential plc in Asia and Africa. Produced in co-operation with Cartoon Network, the leading children's channel in Asia Pacific, and with the backing of Dr. Alice Wilder, an expert in educational and child psychology, Cha-Ching takes an engaging and age-appropriate musical narrative approach to teach children four key money management concepts – Earn, Save, Spend, and Donate.
Cha-Ching is a series of three-minute animated music videos for children aged seven to 12. The videos are aired on Cartoon Network, reaching 34 million households a day in Asia. Cha-Ching is available in 9 languages; English, Bahasa Indonesia, Bahasa Malaysia, Cantonese, Mandarin, Thai, Vietnamese, Khmer and Burmese.
The Cha-Ching curriculum has been providing structured lesson plans for teachers since 2016. Over 10,000 teachers have been trained to deliver the curriculum, across 8 locations in Asia and Africa, reaching over 500,000 students to date.