Newsroom
Pru Life UK, British government renew partnership in support of Chevening Scholarship Program with 4th scholar
The program aims in developing global leaders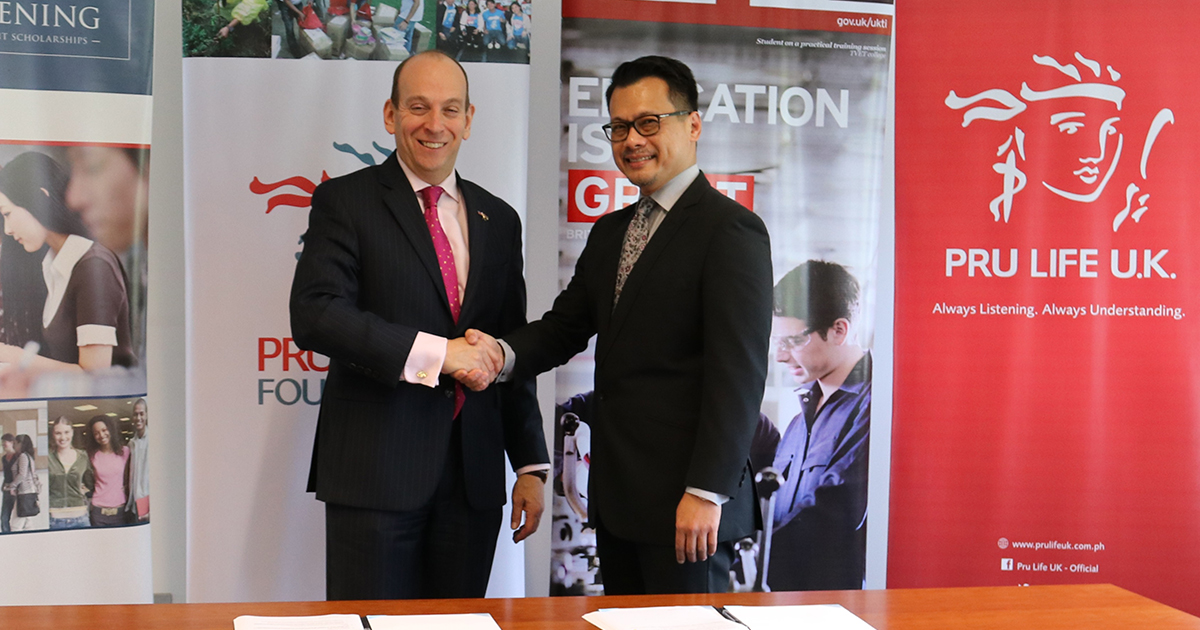 Leading life insurer Pru Life UK has renewed its partnership with the British Embassy Manila in support of the Chevening Scholarship Program with its 4th scholar, the first female on the roster.
Chevening is a scholarship and fellowship program of the UK government, aimed at developing global leaders. The programme has long been supporting Filipino in scholars to study in the UK.
Marielle Bordado, a Communications Officer at Philippine Development Foundation (PhilDev), is this year's Pru Life UK Chevening Scholar. Bordado, who is the first female in the Philippines to receive the scholarship, will be taking a one-year master's degree in Media, Communication, and Development at the London School of Economics and Political Science. The scholarship will cover expenses such as university tuition fees, monthly allowance, as well as travel expenses to and from the UK.
Pru Life UK is the only Philippine insurer that supports the Chevening Scholarship for some of the country's brightest and most aspiring young professionals in line with its advocacy to champion financial literacy. Since 2018, Pru Life UK has been a partner of the British Embassy Manila in support of the Chevening Scholarship Program. The partnership has supported three scholars to study in the UK, one of whom is an award-winning Cha-Ching public school teacher.
"With its 'We DO Education' spirit, Pru Life UK is committed to upskilling Filipinos by improving literacy and providing access to high quality education. Chevening allows us to deliver on this commitment and support outstanding individuals who share the same vision with us," says Pru Life UK Senior Vice President and Chief Customer Marketing Officer Allan Tumbaga.
"The partnership with Pru Life UK enables Chevening to give more aspirational future leaders the life-changing opportunity of a first-class education in the UK, supporting the development of their skills and knowledge to help them make a lasting, positive change on their return to the Philippines," says Her Majesty's Ambassador to the Philippines Daniel Pruce.
---
About Prudence Foundation
Prudence Foundation is the community investment arm of Prudential in Asia and Africa*. Its mission is to secure the future of communities by enhancing education, health, and safety. The Foundation runs regional programs as well as local programs in partnership with NGOs, governments and the private sector in order to maximize the impact of its efforts. Prudence Foundation leverages Prudential's long-term mindset and geographical scale to make communities safer, more secure and more resilient. The Foundation is a Hong Kong-registered charitable entity.
For more information please visit: www.prudencefoundation.com
*Prudential plc is listed on the stock exchanges of London (PRU.L), Hong Kong (2378.HK), Singapore (K6S.SG) and New York (PUK.N).It is not affiliated in any manner with Prudential Financial, Inc. a company whose principal place of business is in the United States nor with The Prudential Assurance Company, a subsidiary of M&G plc, a company incorporated in the United Kingdom.