Newsroom
Pru Life UK, Cha-Ching Enriches Sessions
At Galileo Learning Centers
Through our efforts with Galileo, we aim to inculcate money-smarts among Filipino Youth.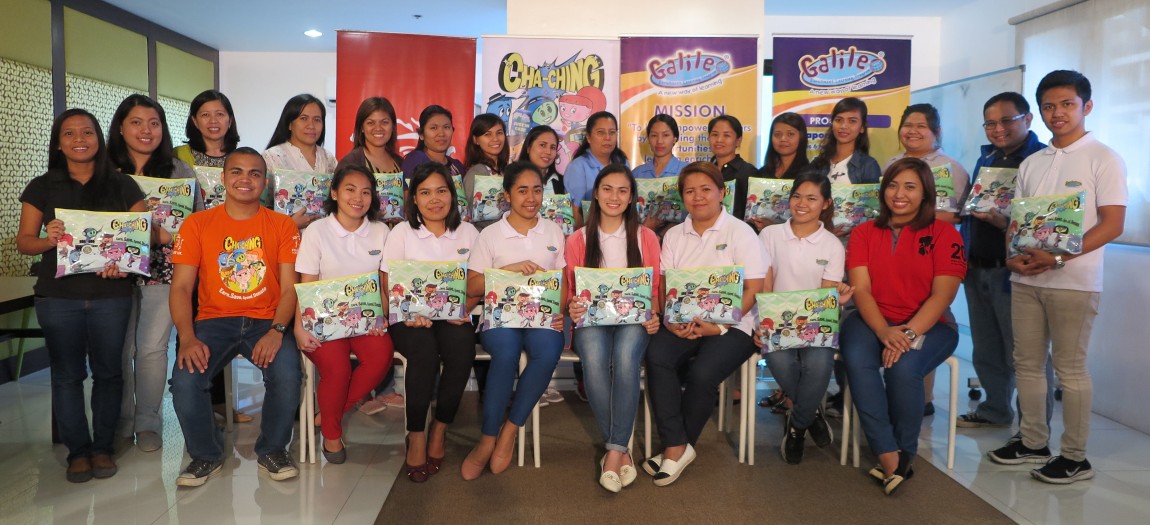 British life insurer Pru Life UK continues to fortify its commitment to inculcate money-smarts among the Filipino youth through its collaborative efforts with the Galileo Enrichment Learning Program, Inc. (Galileo), to integrate Pru Life UK's landmark Cha-Ching Financial Literacy for the Youth Program in Galileo's esteemed enrichment learning program. Galileo is Pru Life UK's first enrichment learning program partner for Cha-Ching.
In 2015, Galileo started incorporating Cha-Ching in its summer program offerings. Cha-Ching is taught in over 30 Galileo centers across the nation to students aged seven to 12 enrolled in its Math, English, or Singapore math programs for free every April and May. This summer, Galileo offered six one-hour financial literacy sessions to its students, tackling the Cha-Ching core concepts of earn, save, spend, and donate. More than 30 teachers have been trained extensively for the facilitation of the program that is administered to 1,000 Galileo enrollees.
Teachers and parents alike have expressed their words of commendation for the program, affirming the importance of Pru Life UK and Galileo's advocacy to educate the youth to become financially literate.
Ivy Ojera, mother of Galileo-Bacolod student Xaxa, shared, "Xaxa gained the ability to differentiate wants and needs after her very first session with Galileo. She would suggest ways for her to afford new toys, such as through selling her old toys or donating them to street children. Our child also has the habit of saving the money she receives as gifts, and then using that money to buy toys at the end of the year. Now at the tender age of 8, Xaxa is already thinking of starting her own business and has already discussed a business plan with us!"
Sheryl Ang Ong, Center Director of Galileo-Bacolod and a financial literacy facilitator, shared her enthusiasm for the activity-based sessions as well, for these lessons have truly inspired children to become money-smart. She cited, "The activity on entrepreneurship was a blast. The kids learned how to brainstorm, collaborate, and come up with a business plan complete with a name, logo, mascot, pricing, and products."
"It was a good practice of 21st century skills like critical thinking, communication, and collaboration. Students learned how to maximize their allowance by spending money wisely. They computed for how much they wanted to save in a day and how much that would accumulate to in a year, surprising themselves with how much money they can actually save," added Ong.
"Overall, the financial literacy program was a success and the kids surely enjoyed what they were learning. It was practical... life skills that they can apply and use."
Pru Life UK's flagship corporate social responsibility initiative, Cha-Ching is the first multi-country, multi-platform program that aims to help parents in Asia teach financial literacy to children aged seven to 12. It was launched in Hong Kong in 2011 by Prudential Corporation Asia, the regional headquarters of Pru Life UK.
The Philippines became the first country to integrate Cha-Ching in grade school following the signing of a Memorandum of Agreement with the Department of Education in April 2012, covering the curricula of grades two and three.
Now on its fourth year, Cha-Ching hits a milestone as it marks a total reach of 96,000 students in 47 public schools and 29 private educational institutions nationwide. It has likewise mobilized and trained a total of 1,400 teachers to date. It piloted in Upper Bicutan Elementary School in the National Capital Region (NCR) and Tagaytay Central School in the Southern Tagalog Region for academic year 2012-2013 through DepEd's Adopt-A-School program.
This news on the continued success of Cha-Ching, set by the partnership between Pru Life UK and Galileo Enrichment Learning Program, Inc., coincides with Pru Life UK's 20th anniversary in the Philippines. In 1996, the Insurance Commission granted the British subsidiary the license to operate and sell life insurance in the country. Since then, Pru Life UK has expanded its reach to over 80 branches in the Philippines, with the biggest life agency force at 14,000 licensed agents, and has emerged as one of the top five life insurers. Pru Life UK is headquartered in Uptown Bonifacio, Taguig City.