Newsroom
Pru Life UK Extends Free COVID-19 Protection Offer Through Pulse
Until July 15
Pru Life UK is keen to protect more health workers.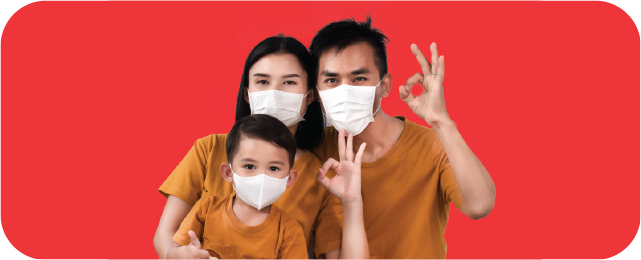 Leading life insurer Pru Life UK is extending its free COVID-19 protection and Personal Accident (PA) coverage sign-up offer until July 15, 2020 through Pulse, an artificial intelligence-powered health and wellness app that offers holistic health management.
Pru Life UK is keen to protect more Filipinos, particularly health workers, with its free COVID-19 protection and PA coverage — a one-time, 45-day insurance against the unfortunate event that the individual passes away as a result of COVID-19 or an accident. This limited, exclusive offer is available to the first 500,000 persons who register their profiles on the Pulse app until July 15, 2020. The coverage is effective from the date of registration.
Filipinos, aged 18 to 64 and residing in the Philippines, who have registered for this offer on the Pulse app will be entitled to a death benefit or lump sum amount of Php 100,000 for the bereaved family if the insured passes away due to accident, or as a result of COVID-19, subject to terms and conditions. No purchase of any insurance product is required. Health workers are entitled to twice the COVID-19 death benefit or up to Php 200,000 at no cost. A Php 10,000 burial benefit will be added if the death is due to illnesses or natural causes, and not due to an accident.
The free COVID-19 insurance is primarily aimed at supporting health workers who are at the frontlines in their efforts to help curb the spread of the disease. These include, but are not limited to, health professionals, associates, community health service workers, as well as health management and support staff.
To register for the offer, eligible Filipinos must download the free Pulse app from Google Play Store and Apple App Store. New Pulse app registrants are required to create an account, complete their user profiles, and register for the free COVID-19 offer on the app. Existing Pulse registrants would have received an in-app notification directing them to complete their profiles and register for the free COVID-19 protection. A confirmation email is sent to the covered person upon successful registration. The covered person will also be able to name and update their beneficiaries through the Pulse app within the 45-day coverage period. A 45-day extension of the coverage for COVID-19 policyowners who were able to refer 3 friends who successfully downloaded Pulse and registered is now available.
Those who have been diagnosed with, have symptoms of, have been under quarantine for COVID-19, or have been living with a COVID-19 patient at the time of registration are not eligible for this offer. Other excluded conditions are listed in the terms and conditions of the product.
More protection initiatives for Filipinos
The complimentary COVID-19 protection and PA coverage is one of the several initiatives of Pru Life UK to help protect Filipinos at the height of this public health emergency.
Prudence Foundation, the community investment arm of Prudential plc, the parent company of Pru Life UK, has recently launched SAFE STEPS COVID-19, which provides easy-to-understand educational messages to encourage simple preventative measures that help minimize the chances of transmission. The initiative also aims to drive awareness on obtaining accurate information and staying informed of updates to help protect people's health against the virus. SAFE STEPS COVID-19 consists of practical and downloadable infocards in English and Filipino, available also on the Pulse app. A public service announcement in video format is accessible at https://safesteps.com/main/covid-19/.
Pru Life UK previously announced the extension of the grace period for premium payments with due dates from February 16 until June 30, 2020 to ensure uninterrupted protection for its customers during the COVID-19 outbreak. The grace period now covers 60 days from the standard 31 days for all policyowners nationwide.
###
About Pulse
Pulse is a digital health app and the first of its kind in the region to offer holistic health management to consumers. Using AI-powered self-help tools and real-time information, the app serves as a 24/7 health and wellness partner to users, helping them prevent, postpone, and protect against the onset of diseases. Pulse is part of Prudential's region-wide strategy to provide affordable and accessible healthcare to everyone across Asia by leveraging digital technologies and best-in-class partnerships.
Following the regional launch of Pulse in Malaysia in August 2019, Pulse was introduced in the Philippines in February 2020. The app will be available in a total of 11 markets across the region, supported by a growing suite of regional and local service providers such as Babylon (symptom checker and healthcheck).
Pulse can be downloaded for free from Apple and Google Play stores.
Pulse is owned and operated by Prudential Services Asia Sdn Bhd, an affiliate of Pru Life UK. Existing health services on the Pulse app are provided by third-party partners, and not Prudential.
For more information: https://wedopulse.com/ph/
About Prudence Foundation
Prudence Foundation is the community investment arm of Prudential in Asia and Africa. Its mission is to secure the future of communities by enhancing education, health and safety. The Foundation runs regional programs as well as local programs in partnership with NGOs, governments and the private sector in order to maximize the impact of its efforts. Prudence Foundation leverages Prudential's long-term mindset and geographical scale to make communities safer, more secure and more resilient. The Foundation is a Hong Kong registered charitable entity.
For more information please visit: www.prudencefoundation.com.