Newsroom
Pru Life UK, Industry Partners Promote Mobile Health and AI
to Augment Healthcare in the PH
Healthscape PH discusses timely topics on healthcare.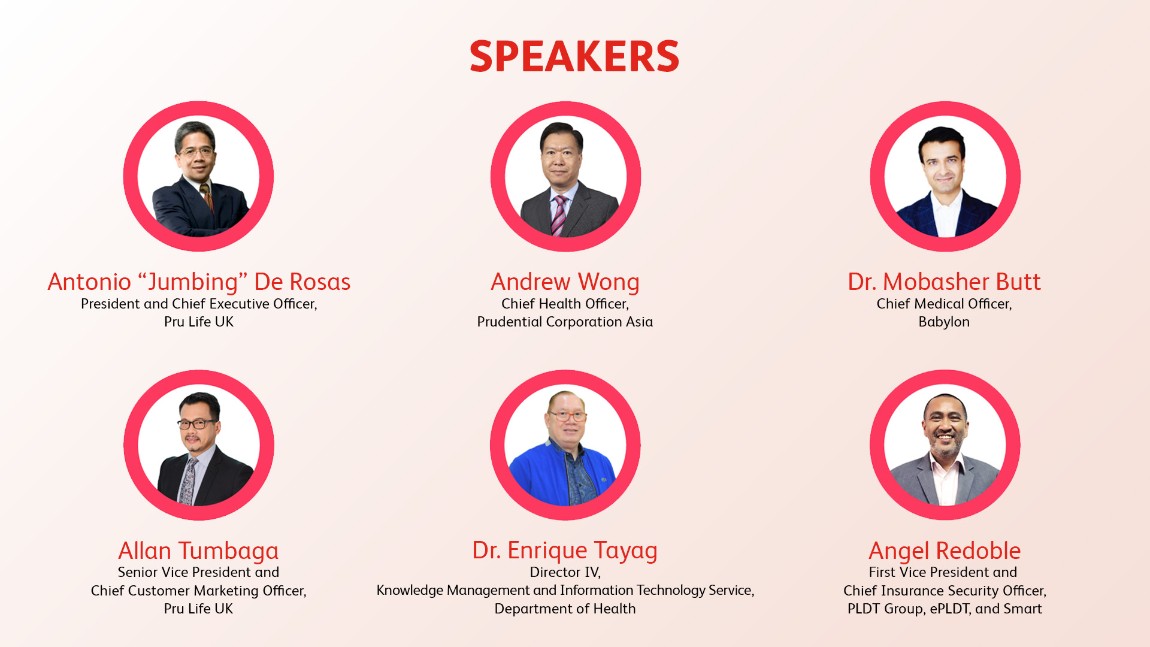 Leading life insurer Pru Life UK will launch the latest addition to its PRUWise Webinar series called 'Healthscape PH', a dialogue series on timely topics around healthcare in the Philippines, including accessibility and modernization of health services.
The first event in the series is a webinar around the theme "Harnessing the Power of AI and Mobile Health in Transforming Philippine Healthcare", and will be held on July 23, 2020, Thursday, 3:00 PM via Zoom. The session aims to look into the growing adoption of AI and mobile health (mHealth) especially during the pandemic, as well as current challenges and opportunities for health tech that lie ahead.
The webinar will feature insights from key players from industries within the integrated health ecosystem, such as life insurance, technology, public health, and telecommunications sectors. Speakers include Pru Life UK President and CEO Antonio "Jumbing" De Rosas, Pru Life UK Senior Vice President and Chief Customer Marketing Officer Allan Tumbaga, Prudential Corporation Asia Chief Health Officer Andrew Wong, Babylon Chief Medical Officer Dr. Mobasher Butt, Department of Health Director Eric Tayag, and PLDT Group First Vice President and Chief Information Security Officer Angel Redoble.
"As a proud advocate for progress in digital health in the Philippines, we are excited to present the 'Healthscape PH' series as a follow-up to the successful launch of our mHealth white paper last year. We believe the session will foster an engaging, inspiring, and multi-sectoral discussion around our country's healthcare system. Furthermore, we are opening this dialogue to everyone online so they can be part of the discussion," says Jumbing De Rosas. "We believe that making healthcare accessible to more Filipinos through the use of technologies helps create a healthy nation, which in turn supports the growth of the insurance industry."
Ongoing efforts to promote adoption of mHealth
Last year, Pru Life UK started the discussion on mHealth by commissioning a study authored by law firm Quisumbing Torres. The whitepaper examines the readiness of the country's regulatory framework to support and integrate mHealth in healthcare reforms.
"We are excited to host our latest PRUWise Webinar series on mHealth, a topical and relevant topic in the Philippines. With the ongoing development of healthcare services in the country, Pru Life UK hopes to drive further discussions on this topic, particularly the usage and opportunities of mobile digital health and AI in our daily lives and the industry," says Allan Tumbaga.
Earlier this year, the life insurer reinforced the application of mHealth in the Philippines by launching Pulse, its free, AI-powered, all-in-one health management app which empowers Filipinos to protect their health, as well as prevent and postpone against the onset of diseases through a variety of advanced self-help tools.
The app can be customized based on the users' inputs on health information to help determine their overall health status, risk factors, symptoms, and fitness progress. Pulse also shares timely health news and advice to help users improve their lifestyle.
Prior to Healthscape PH, Pru Life UK has held PRUWise Webinars to promote the importance of financial protection and security, mental health, and physical wellbeing.
The Healthscape PH webinar is held in partnership with the British Chamber of Commerce Philippines, Chartered Institute for Securities and Investments, and ABS-CBN News. Interested individuals can register at link to join the webinar. For more information about Pru Life UK and the Pulse app, please visit wedopulse.com/ph, facebook.com/prulifeukofficial and instagram.com/prulifeuk.
--
About Pulse
Pulse is a digital health app and the first of its kind in the region to offer holistic health management to consumers. Using AI-powered self-help tools and real-time information, the app serves as a 24/7 health and wellness partner to users, helping them prevent, postpone, and protect against the onset of diseases. Pulse is part of Prudential's region-wide strategy to provide affordable and accessible healthcare to everyone across Asia by leveraging digital technologies and best-in-class partnerships.
Following the regional launch of Pulse in Malaysia in August 2019, Pulse was introduced in the Philippines in February 2020. The app is being rolled out in 11 markets across the region, supported by a growing suite of regional and local service providers such as Babylon (symptom checker and healthcheck).
Pulse can be downloaded for free from Apple and Google Play stores.
Pulse is owned and operated by Prudential Services Asia Sdn Bhd, an affiliate of Pru Life UK. Existing health services on the Pulse app are provided by third-party partners, and not Prudential.
For more information: https://wedopulse.com/ph/