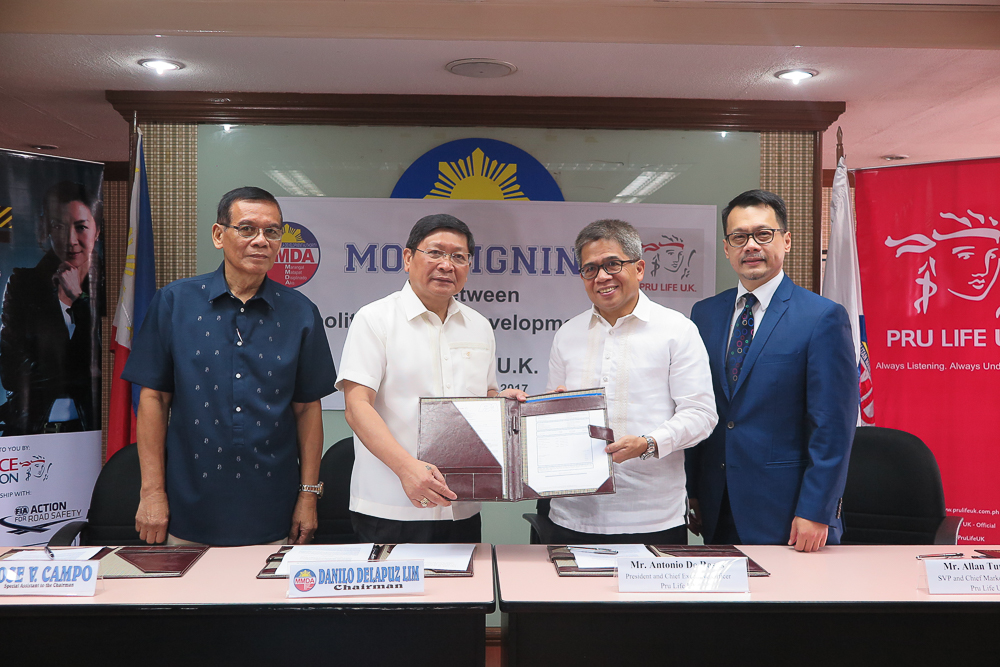 In line with its advocacy to promote disaster preparedness among Filipinos, British life insurer Pru Life UK established a partnership today with the Metro Manila Development Authority (MMDA) through the signing of a memorandum of agreement to promote the well-being of motorists and pedestrians through the SAFE STEPS Road Safety program.
"Pru Life UK and MMDA share the commitment to advocate the increased public awareness on the importance of road safety," said Pru Life UK President and Chief Executive Officer Antonio De Rosas. "We aim through this partnership to help decrease the number of road accidents in the Philippines and eventually build a more motorist- and pedestrian-friendly country."
Under the partnership, MMDA will use SAFE STEPS Road Safety videos as educational materials across its communication platforms, such as its field offices, website, social media sites, and LED billboard along EDSA, among others. Pru Life UK will also be providing MMDA employees with accident insurance coverage with premiums fully waived for one year.
"The MMDA appreciates its partnership with Pru Life UK not only in generating public awareness on road safety and the prevention of road accidents but also in the provision of accident insurance coverage for the MMDA employees. Our traffic constables, street sweepers and other field workers will surely value and benefit from such insurance coverage given the hazards that accompany their jobs," said MMDA Chairman Danilo Delapuz Lim.
Pru Life UK has previously supported various road safety-related initiatives of MMDA, including the first MMDA Road Safety Forum in observance of the National Road Safety Month in 2016.
Cultivating more survivors with SAFE STEPS
Globally, 1.3 million people are killed on roads every year, while 500 children are killed on the road every day. Road crashes are the number one cause of death of 15 to 29 year olds, continuing to be a life-threatening issue to individuals and their families, not just in Asia, but across the world in both developing and developed markets.[1]
In February 2016, Prudence Foundation, the community investment arm of Pru Life UK's regional headquarters Prudential Corporation Asia, teamed up with internationally-acclaimed actress and producer Michelle Yeoh, together with National Geographic Channel, and the Federation Internationale de l'Automobile (FIA), to launch the SAFE STEPS Road Safety program.
SAFE STEPS Road Safety is a ground-breaking public service initiative aimed at raising awareness about one of the world's leading causes of death. It also aims to help save lives by disseminating clear and simple educational messages on road safety through a series of 60-second public service announcement videos.
These videos focus on the key aspects to bear in mind for both motorists and pedestrians, such as distracted driving, drunk driving, motorcycles, pedestrians, seatbelts and speed limits.
Created and developed by Prudence Foundation, SAFE STEPS comprises a series of public service announcements that aims to raise awareness and provide easy-to-understand educational information on life-threatening issues in the hope of saving lives and building more resilient communities.
Since its founding in 2014, SAFE STEPS has launched campaigns on natural disasters, road safety, and first aid to arm the public with useful and practical information on how to be survivors.
To know more about the program, visit www.safesteps.com.
[1] Source: Global status report on road safety 2015, World Health Organization