Newsroom
Pru Life UK Investments celebrates first anniversary
with series of investalks
Pru Life UK Investments is celebrating its first anniversary with a series of virtual investment talks.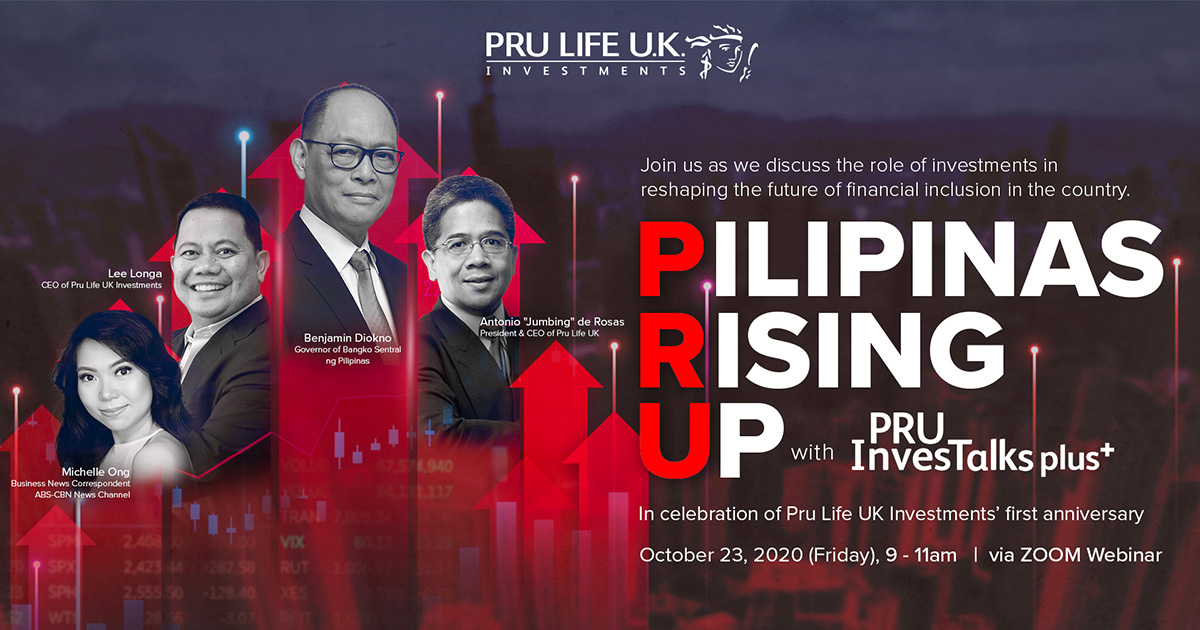 Pru Life UK Investments, the asset manager of leading life insurer Pru Life UK, is celebrating its first anniversary with a series of virtual investment talks for its certified investment advisors (CIAs), employees, and the public. The company will showcase its product offerings and achievements over its past year of operations in the country.
The celebrations will kick off with esPRUsso: A Coffee Talk with Pru Life UK Investments CEO Lee Longa, which will be held on October 13 via Zoom and open to hundreds of Pru Life UK Investments' CIAs, who are insurance agents of Pru Life UK and certified by Pru Life UK Investments to sell its Unit Investment Trust Funds (UITFs). The conversation is expected to cover topics such as Pru Life UK's business highlights, its strategic plans, and development programs for its CIAs.
On October 16, Francis Kong, a recipient of the Outstanding Filipino Award in 2014 and one of the most respected business speakers in the country, will be hosting PRUInvesTalks Module 4 as part of PRUInvesTalks, a virtual learning series aimed at further strengthening the skills of Pru Life UK Investments' CIAs. Kong will speak on the topic Defy the odds and bring out the best in you. He will also be joined by Pru Life UK agent and Pru Life UK Investments CIA Angela Gaw-Flores, who will share her perspectives on being a financial advisor in the midst of the pandemic.
On October 23, the Bangko Sentral ng Pilipinas (BSP) Governor Benjamin Diokno will participate in the celebration as a keynote speaker at the PRUInvesTalks Plus, a free public webinar open to thousands of clients, CIAs, stakeholders, and partners. In this event, titled Pilipinas Rising Up, Governor Diokno will discuss the role of investments in reshaping the future of financial inclusion in the country. Individuals can register their interest via this link.
"Pru Life UK Investments will continue to empower Filipinos to build their wealth and a sound financial wellbeing for themselves and their future generations. Our ambition is to be the asset management company of choice for new and seasoned investors. These activities reflect our appreciation of our people for their hard work and our clients for placing their trust in our expert advice, tailor-fit investments, and innovative wealth solutions," shared Longa.
Established in 2019, Pru Life UK Investments offers savings and wealth creation solutions to Filipinos looking to focus on investments. The company's superior fund selection consists of eight products, each tailored to the clients' risk appetite of conservative, moderate, or aggressive investments. In May 2020, the company launched three new products – PRUInvest PHP Dynamic Equity Fund, PRUInvest PH Equity Index Tracker Fund, and PRUInvest USD Intermediate Term Bond Fund.
Pru Life UK Investments currently has over 900 clients serviced by 1,090 CIAs. The company remains committed to serving its clients through online channels during the lockdown and continued to train its CIAs through online briefings and UITF certification programs.
---
All funds managed by Pru Life UK Investments are Trust Products. These are not deposit products and are not guaranteed and insured by Pru Life UK Investments, Pru Life UK, nor the Philippine Deposit Insurance Corporation. Any loss/income arising from market fluctuations and price volatility of the securities held by the UITF, even if invested in government securities, is for the account of the client/participant; as such, the units of participation of the investor in the UITF, when redeemed, may be worth more or be worth less than his/her initial investment contributions; historical performance, when presented, is purely for reference purposes and is not a guarantee of similar future result; and the trustee is not liable for losses unless upon willful default, bad faith or gross negligence.
About Pru Life UK Investments
Pru Life UK Investments, registered as Pru Life UK Asset Management and Trust Corporation, is a subsidiary of Pru Life UK, the pioneer and current market leader of 'insuravest' or investment-linked life insurance in the Philippines.
Incorporated in 2018, Pru Life UK Investments offers a superior selection of funds that specifically cater to long-term savings requirements of Filipinos who want to achieve their financial goals through pure investments. These funds are managed by some of the country's top fund managers.
Pru Life UK Investments is regulated by the Bangko Sentral ng Pilipinas (BSP) with contact number +632 8708 7087 and e-mail address consumeraffairs@bsp.gov.ph. BSP may also be accessed via the BSP Online Buddy (BOB) portals:
BSP Webchat - http://www.bsp.gov.ph/

SMS: 021582277 (for Globe subscribers only; for other network subscribers, BOB will also be made available soon)

BSP CAMS Facebook - https://www.facebook.com/BangkoSentralngPilipinas/
For any feedback or inquiries relating to our services and products, you may call our hotline: (632) 8991 0499, send an email to investments@prulifeuk.com.ph, or write a letter addressed to Pru Life UK Investments – Client Management Unit, 2/F Uptown Parade 2, 36th Street, Uptown Bonifacio, 1634 Taguig City, Philippines.
For more information: www.prulifeukinvestments.com.ph