Pru Life UK named International Life Insurer of the Year in the Philippines
at the 2021 Insurance Asia Awards
It showcased its innovations and strategic initiatives towards being an undisputed leader in the insurance industry.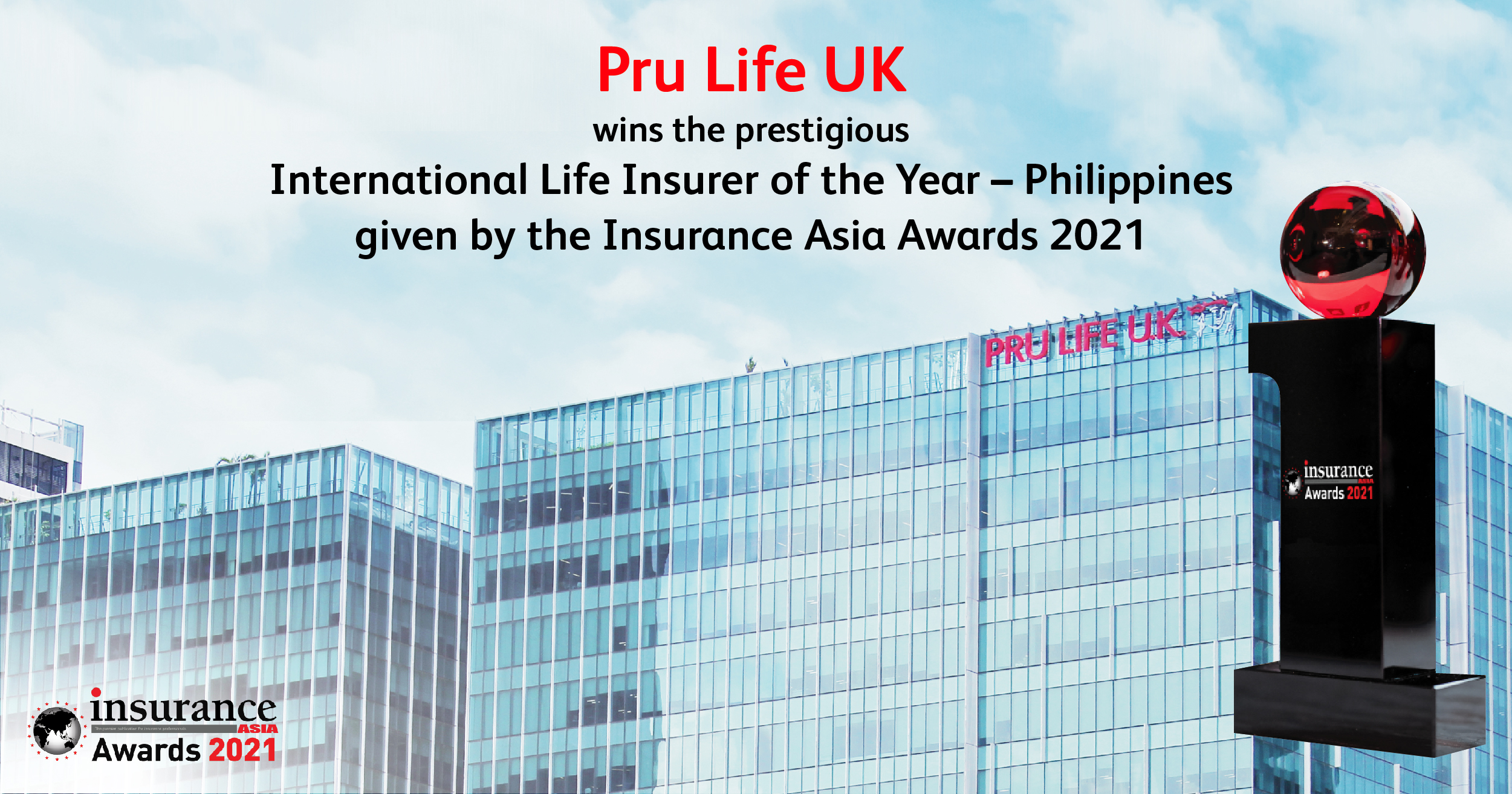 Solidifying its status as the country's leading life insurer, Pru Life UK won the International Life Insurer of the Year award among insurance companies from the Philippines in the recently concluded 2021 Insurance Asia Awards.
This recognition comes at the heels of Pru Life UK's number one ranking in the insurance industry in the Philippines in terms of New Business Annual Premium Equivalent (NBAPE) for 2020. It is the only company among the top five firms in terms of NBAPE, that registered positive growth despite the ongoing health crisis. It recorded a total NBAPE of Php 7.95 billion last year. NBAPE is the global standard adopted by the Insurance Commission to measure the Philippines' life insurance industry's sales performance more accurately1.
"We are deeply honored and grateful to be recognized by Insurance Asia as the International Life Insurer of the Year in the Philippines. This is a testament to how Pru Life UK has continuously worked hard to innovate its products and services to meet the customers' evolving needs ever since we started our business 25 years ago. Guided by our We DO commitment, we will remain steadfast in our goal to serve our customers to the best of our abilities and help them make the most out of life," says Pru Life UK President and Chief Executive Officer Antonio "Jumbing" De Rosas.
Since the pandemic started in March 2020, Pru Life UK showcased its innovations and strategic initiatives towards being a trusted health partner and undisputed leader in the insurance industry.
With its efficient customer-centric approach, the life insurer remained as a strong contender in brand preference by being the first to offer virtual face-to-face selling in the country. The insurer's agency force also grew to over 44,000 agents last year, a 21% increase from 2019 - the largest salesforce in the industry.
As Pru Life UK further digitizes its service and expands its customer touchpoints, the company also launched Pulse. It is meant to provide Filipinos with holistic health and financial wellness solutions that are accessible, affordable, and understandable. Pulse features fitness contents such as the Fitness Tracker, Food Journal, Meal Planner, and more.
With its We DO Health campaign, Pru Life UK continues to advocate for Filipino's overall wellbeing by launching the PRURide Virtual Challenge on Pulse, enabling almost 7,000 cyclists and families to experience fun and safe cycling. The company also offered a variety of products to provide life protection and financial security to Filipinos. These include PRUPersonal Accident insurance with COVID-19 and vaccine cover, PRUPersonal Accident, PRUDengue, and PRUHealth Prime-Select Breast Cancer, which are all available on Pulse.
Insurance Asia Awards gathers and gives recognition to the most outstanding insurance companies in Asia for their remarkable innovations for stakeholders. This year's nomination garnered the highest number of insurance companies since its founding in 2016.
To learn more about Pru Life UK, visit prulifeuk.com.ph.
Source:
1 Funa, Atty. Dennis B. Annual Premium Equivalent: Measuring the industry's new business. February 2019.https://businessmirror.com.ph/2019/02/27/annual-premium-equivalent-measuring-the-industrys-new-business/