Newsroom
Pru Life UK, Philippine Red Cross Team Up
For National Blood Donor's Month
The blood donation drive is one of our many initiatives to prepare for emergency situations.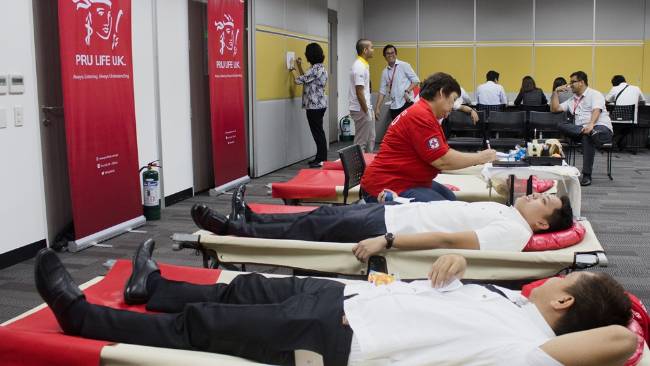 British life insurer Pru Life UK continues to fortify its commitment to prepare for emergency situations by conducting a blood donation drive last July 19, 2016, in partnership with the Philippine Red Cross.
A total of 28 bags of blood were collected and donated to the National Blood Bank, contributing to the cause that seeks to ensure the sufficient supply of safe blood needed for Red Cross' disaster and emergency response operations. The participation of Pru Life UK employees in the blood donation drive takes root from the Company's initiative to promote the spirit of volunteerism within the organization through its employee-volunteer program, Pru It Forward.
In the same week, Pru Life UK also held a disaster preparedness seminar on the fundamentals of preparation and survival for emergencies. The seminar perfectly complements the company's corporate social responsibility advocacy of disaster preparedness and recovery.
Pru Life UK's bloodletting and disaster preparedness initiatives are in celebration of the company's Business Continuity Week, which coincides with its 20th anniversary in the Philippines. In 1996, the Insurance Commission granted the British subsidiary the license to operate and sell life insurance in the country. Since then, Pru Life UK has expanded its reach to over 80 branches in the Philippines, with the biggest life agency force at 14,000 licensed agents, and has emerged as one of the top five life insurers. Pru Life UK is headquartered in Uptown Bonifacio, Taguig City.