Prudence Foundation's Cha-Ching highlighted in first BSP Financial Education Expo
Cha-Ching was featured for its innovative multi-platform approach.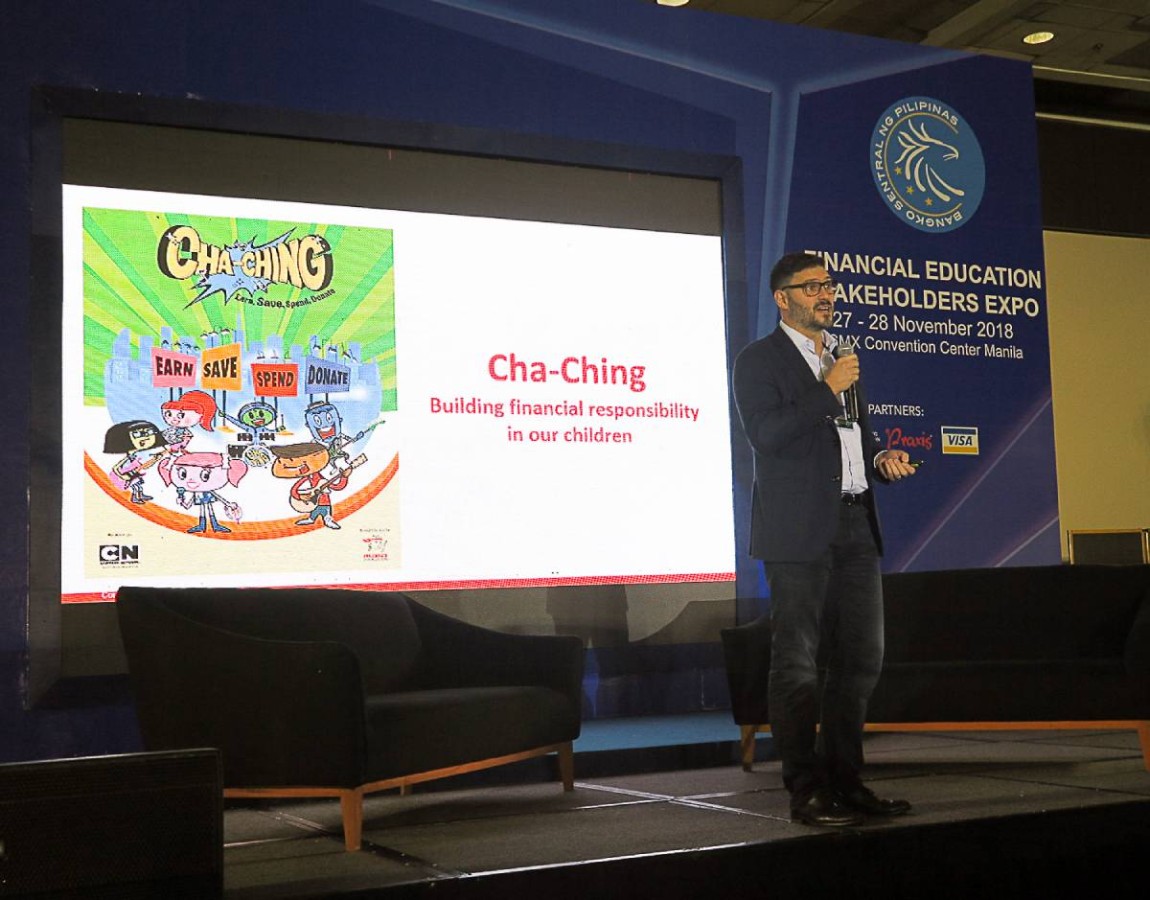 British life insurer Pru Life UK's community investment arm, Prudence Foundation, was featured in the recent Financial Education Stakeholders Expo 2018 of the Bangko Sentral ng Pilipinas for its innovative financial literacy advocacy program, Cha-Ching Money Smart Kids.
The Expo, which gathered advocates of financial education from the public and private sectors, aims to provide a platform for the sharing of best practices and enhancement financial literacy among Filipinos, ultimately contributing to nation building. Topics discussed during the two-day event, held from November 27 to 28, included personal finance management, financial education through performing arts and board games, and financial education as corporate social responsibility.
Prudence Foundation Executive Director Marc Fancy presented Cha-Ching at the Innovations in Financial Education plenary session and discussed how the advocacy is carried across Asia through a multi-platform approach.
Launched in Hong Kong in 2011 by Prudential Corporation Asia, the regional headquarters of Pru Life UK, Cha-Ching is the first multi-country, multi-touchpoint educational program that aims to help parents in Asia teach children basic money management skills of Earn, Save, Spend, and Donate to children aged seven to 12. The program utilizes a variety of tools and platforms to maximize its reach, including a series of three-minute animated music videos, a website with games and applications, online resources and at-home activities, as well as a school curriculum to help build children's understanding of the key money management concepts.
Marc Fancy, Executive Director of Prudence Foundation said, "From the outset of our Cha-Ching journey, the challenge was how to educate and reach over a million children. Clearly this could never be achieved by ourselves, so innovation and creativity played a key role in our strategy early on. Creating a multi-platform approach enables us to engage children in multiple ways, with the cartoon episodes and curriculum as the foundation of the program."
The Philippines became the first country to integrate Cha-Ching in the grade school curriculum following the signing of a Memorandum of Agreement with the Department of Education (DepEd) in April 2012 for the integration of the Cha-Ching in the grade 2 curriculum through DepEd's Adopt-A-School program.
Pru Life UK further fortified its commitment to financial literacy in 2017 through the collaboration of Prudence Foundation with Junior Achievement (JA) Philippines and JA Asia Pacific. From just two pioneer schools in 2012, the program now has 926 Cha-Ching partner schools, with more than 4,800 teachers trained, who have taught the money-smart values to more than 240,500 students.