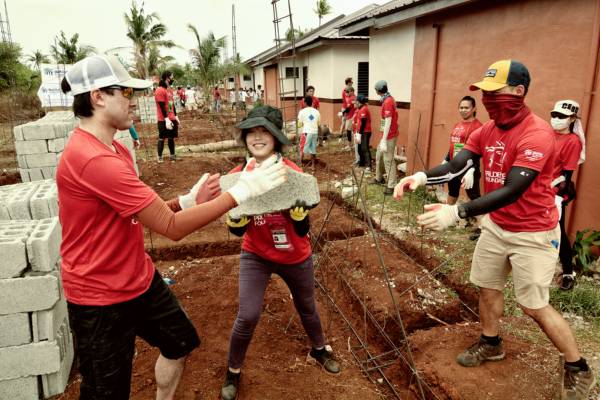 Almost four years after super typhoon Yolanda (international name: Haiyan) ravaged Central Visayas, Prudence Foundation – the community investment arm of Pru Life UK's regional head office Prudential Corporation Asia (PCA) – rolled out the final leg of its Regional PRUvolunteer Programme in Bantayan Island, Cebu, concluding its long-term commitment to contributing in the rebuilding and recovery efforts there.
From March 18 to 25, more than 60 employee-volunteers from Prudential companies in Asia were mobilized on the ground to help put finishing touches in the build sites and give away items from the Company's flagship corporate social responsibility initiative, Cha-Ching, to children from Barangays Maricaban and Sulangan.
Prudence Foundation Executive Director Marc Fancy said of the project's completion, "It is with a great sense of sadness and pride that we will be finishing the Bantayan project after almost four years of volunteering work in partnership with Habitat for Humanity Philippines. This project has touched the lives of many, not just the beneficiaries of the new houses, but also the volunteers who have participated. Our hope is that these new houses represent a more secure and safer future for those affected by Typhoon Yolanda, and we are proud to have seen our commitment and promise fulfilled."
"We would like to thank the local government, Habitat, and all the Prudential agent- and employee-volunteers from the very first leg of the project for their unwavering support and dedication to this cause, as well as the residents of Bantayan Island for their hospitality," he added.
For his part, Prudence Foundation Trustee and Pru Life UK President and CEO Antonio Manuel De Rosas stressed, "The effects of Yolanda were truly devastating and we feel very privileged to have been able to contribute to the relief and recovery of our brothers and sisters in Bantayan Island. As a company founded on trust and integrity, we remain committed to making lives better for Filipinos. It is important for us to see through our promises and remain steadfast in supporting the sustainable development of the communities we are part of. We will continue to uphold our mission to protect and uplift the communities in the Philippines."
About 90% of the population of the island was displaced by the super typhoon, leaving them in dire need of housing and livelihood support. This prompted the Foundation to commit USD2 million in 2013 to support the relief and long-term recovery efforts in the affected areas. Through the Regional PRUvolunteer Programme, the team – which comprises life insurance and asset management employees from the United Kingdom and 14 Asian markets including the Philippines (Pru Life UK) – has completed a total of five legs of building new houses together with the local community and international non-governmental organization (NGO) Habitat for Humanity.
Fancy also emphasized the importance of building disaster-resilient houses. He said, "In disaster preparedness, part of it is building better now – not building better later nor waiting for things to collapse, but building better now. And this project is a reflection of that. We are building better houses in the event of a future disaster; the standards have been raised so people will have a better shot at what the future holds."
In September 2015, 64 of the 133 completed disaster-resilient homes – which can withstand magnitude 8 earthquakes and winds of up to 275 kilometers per hour – were turned over to the home partners. Prudence Foundation also provided sustainable livelihood through the contribution of 183 motorized boats with fishing nets and 140 pedicabs or cycle rickshaws.
The Regional PRUvolunteer Programme is an initiative by Prudence Foundation in partnership with local NGOs to help provide meaningful, sustainable, and long-term assistance in times of disaster. Hundreds of employee-volunteers have joined forces to help thousands recover from natural disasters in Asia. PRUvolunteers have helped build schools in Sichuan, China after an earthquake that claimed close to 70,000 lives in 2008, rebuild homes and facilities in Padang, Indonesia following a magnitude 7.9 earthquake in 2009, clear debris and support children in Ishinomaki, Japan after the Great East Japan Earthquake and tsunami in 2011, repaired homes for the elderly in Mae Ai, Thailand in the wake of flash floods in 2012, built new homes for a community in Kelantan, Malaysia which was affected by floods, and build a disaster-resilient school in Quang Binh, Vietnam.
Based in Hong Kong, Prudence Foundation was established by regional headquarters PCA to consolidate its long-term commitment to serve Asian communities. Disaster preparedness and recovery is one of the Prudence Foundation's three key areas of focus along with education and children. It has partnered with Save the Children and Plan International on a series of disaster preparedness and relief programmes in Asia, including in the Philippines alongside the local business, Pru Life UK.
- end -
About the Prudence Foundation
Prudence Foundation is the community investment arm of Prudential in Asia. The Foundation brings Prudential's regional community activities to a new level of strategic alignment and focus, to maximise the impact of its efforts across Asia.
Its mission is to make a lasting contribution to Asian societies through sustainable initiatives focused on the three key pillars: Children, Education and Disaster Preparedness & Recovery. Under each pillar, the Foundation has regional flagship programmes as well as market specific programmes, working closely in partnership with local and international NGOs. The Foundation embodies the long-term and heartfelt commitment of Prudential's people in Asia to provide innovative, focused, and practical support to their local communities.
For more information: www.prudencefoundation.com
About Prudential Corporation Asia
Prudential Corporation Asia is a business unit of Prudential plc (United Kingdom)*, comprising its life insurance operations in Asia, and its asset management business, Eastspring Investments. It is headquartered in Hong Kong.
Prudential is a leading life insurer that spans 12 markets in Asia, covering Cambodia, China, Hong Kong, India, Indonesia, Laos, Malaysia, the Philippines, Singapore, Taiwan, Thailand and Vietnam. Prudential has a robust multi-channel distribution platform providing a comprehensive range of savings, investment and protection products to meet the diverse needs of Asian families.
Eastspring Investments manages investments across Asia on behalf of a wide range of retail and institutional investors. It is one of the region's largest asset managers with a presence in 10 major Asian markets plus distribution offices in the US and Europe. It has £118billion in assets under management (as at 31 December 2016), managing funds across a range of asset classes including equities and fixed income.
*Prudential plc is incorporated in England and Wales, and its affiliated companies constitute one of the world's leading financial services groups. It provides insurance and financial services through its subsidiaries and affiliates throughout the world. It has been in existence for over 168 years and has £599 billion of assets under management (as at 31 December 2016). Prudential plc is not affiliated in any manner with Prudential Financial, Inc, a company whose principal place of business is in the United States of America.
Prudential plc is listed on the stock exchanges of London (PRU.L), Hong Kong (2378.HK), Singapore (K6S.SG) and New York (PUK.N).
For more information: www.prudentialcorporation-asia.com