Newsroom
Prudence Foundation, Federation Internationale De L'automobile and National Geographic Channel Launch "Safe Steps" Road Safety Programme In Asia
We seek to raise awareness about road safety and provide life-saving information.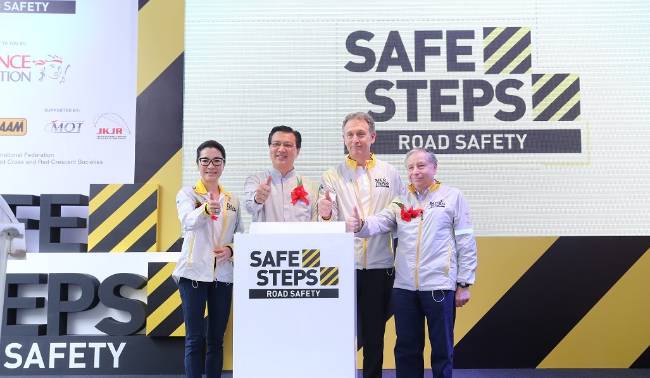 Prudence Foundation, the regional community investment arm of insurance company Prudential Corporation Asia, announced recently that it has teamed up with internationally acclaimed actress and producer Michelle Yeoh, together with National Geographic Channel, part of the FOX Networks Group Asia, and the Federation Internationale de l'Automobile (FIA) to launch the SAFE STEPS Road Safety programme.
This first-of-its-kind pan-Asian public service initiative, SAFE STEPS Road Safety seeks to raise awareness about one of the world's leading causes of death and provide clear and simple life-saving information through the dissemination of educational messages on road safety. It builds upon the successful SAFE STEPS Natural Disasters programme launched in 2014 by Prudence Foundation and National Geographic Channel.
Globally, 1.3 million people are killed on roads every year including 500 children every day. Road related crashes are the number one cause of death of 15 to 29 year olds*, and present a life-threatening issue in Asia as development progresses at breathtaking speeds.
The programme was officially launched in Kuala Lumpur today by Dato' Sri Liow Tiong Lai, Malaysia's Minister of Transport alongside Michelle Yeoh, and President of the FIA and the UN Secretary General's Special Envoy for Road Safety, Jean Todt as well as Chairman of Prudence Foundation, Donald Kanak.
SAFE STEPS Road Safety is a long-term educational programme using multiple platforms including on-air videos, an informative website and print material that can be shared through community-based activities. Core to the programme is a series of 60-second public service announcement (PSA) videos produced jointly by the Prudence Foundation, the FIA and National Geographic Channel, featuring SAFE STEPS Road Safety Ambassador Michelle Yeoh who advises on key aspects to bear in mind while driving cars, riding motorcycles, and for pedestrians. All SAFE STEPS tips were approved by the International Federation of Red Cross and Red Crescent Societies (IFRC) and the FIA.
Donald Kanak said, "Prudence Foundation, as part of Prudential, cares deeply about health, safety, and saving lives. We are honoured to launch SAFE STEPS Road Safety across Asia supporting the efforts of governments and encouraging other businesses to become more engaged in this critical issue. Similar to SAFE STEPS Natural Disasters, which we launched in 2014 and is now available in 24 countries and in 10 languages, we believe this programme will help save lives across Asia through easy-to-follow educational messages that are critical for road safety."
Commenting on her role as SAFE STEPS Road Safety Ambassador, Michelle Yeoh said, "I am delighted to be the Ambassador for the SAFE STEPS Road Safety programme. Road safety is a cause that is close to my heart. Too many people are dying and being injured, so when this programme was presented to me, I knew I had to be a part of it. As I am championing the UN Decade of Action for Road Safety, I am proud to be promoting this campaign in Asia, my home region. By adopting these messages as we use the road, we can all play our part to save lives."
Jean Todt, said, "By raising awareness of the most important risk factors on the road, the Safe Steps campaign can help change attitudes and behaviour, and save lives on the road. I encourage everyone to support the campaign and call on governments to take renewed action to meet the new Sustainable Development Goal target to halve global deaths and injuries from road related crashes by 2020. A key priority should be the putting in place of effective road safety legislation and ensuring its enforcement at all levels."
SAFE STEPS Road Safety will focus on messages about drink driving, distracted driving, seatbelts, speed limits, motorcycles, and pedestrians. The videos will start airing today on 17 channels that are part of the FOX Networks Group Asia portfolio, namely National Geographic Channel, Nat Geo Wild, Nat Geo People, FOX, FOX Crime, FOX Movies Premium, FOX Family Movies, FOX Action Movies, FOX Sports, FOX Sports 2, FX, Star World, Star Movies, Star Chinese Channel, SCM Legend, SCM and Channel [V] reaching viewers in over 80 million households across the region. The video content will also be made available in nine local languages – Bahasa Indonesia, Bahasa Malaysia, Burmese, Cantonese, Khmer, Mandarin, Filipino, Thai and Vietnamese.
The educational messages are also featured on the SAFE STEPS website, www.safesteps.com Visitors to the website can access educational materials such as pamphlets and posters that can be downloaded for further dissemination in local communities. Through the combination of television, online and print materials, SAFE STEPS Road Safety aims to communicate important life-saving information to as many people in Asia and across the world.
*Global Status Report on Road Safety 2015, World Health Organisation
END

For media inquiries, please contact:
Harsha Harjani
Prudential Corporation Asia
Tel: +852 2918 5485
Email: harsha.p.harjani@prudential.com.hk
Belle Tiongco
Pru Life UK
Tel: +632 683-9511
Email: belle.tiongco@prulifeuk.com.ph
About Prudence Foundation
Prudence Foundation is the community investment arm of Prudential in Asia. The Foundation brings Prudential's regional community activities to a new level of strategic alignment and focus, to maximise the impact of its efforts across Asia.
Its mission is to make a lasting contribution to Asian societies through sustainable initiatives focused on the three key pillars: Children, Education and Disaster Preparedness & Recovery. Under each pillar, the Foundation has regional flagship programmes as well as market specific programmes, working closely in partnership with local and international NGOs. The Foundation embodies the long-term and heartfelt commitment of Prudential's people in Asia to provide innovative, focused, and practical support to their local communities.
For more information: www.prudencefoundation.com
About Michelle Yeoh
Acclaimed actor, producer, and Global Road Safety Ambassador Michelle Yeoh is the most fitting choice for SAFE STEPS Road Safety ambassador. Since 2008, Michelle has dedicated her life to campaigning for road safety to be recognized as a global public health and development priority for both the UN and FIA.
Michelle is currently the Global Road Safety Ambassador for the UN Decade for Road Safety 2011-2020 and spokesperson for the new FIA High Level Panel for Road Safety (www.roadsafety2030.com), which aims to engage the private sector to raise much-needed new momentum to tackle the global road safety challenge.
Since 2008 she has been a leading campaigner for the Make Roads Safe campaign, including leading its successful 'Call for a Decade of Action' at events around the world, and traveled widely to film the documentary 'Turning Point' which was broadcast worldwide on the BBC in 2009. She has also played a key role in driving important initiatives such as the FIA's Action for Road Safety campaign, the #SaveKidsLives campaign, and now the SAFE STEPS Road Safety campaign.

In March 2010 and April 2014 respectively, she represented Malaysia at the UN General Assembly where 100 governments approved the proposal for the Decade of Action, and has also spoken at the World Bank and Asia Development Bank Ministerial Conference.
Michelle has also personally traveled across the globe and witnessed firsthand the terrible impact on people's lives.
Michelle has starred in more than 30 films including James Bond's 'Tomorrow Never Dies', 'Crouching Tiger, Hidden Dragon', 'Memoirs of a Geisha', and soul-stirring biopic 'The Lady'. In 1983, she graduated in England obtaining a BA in Creative Arts. The same year, she was crowned Miss Malaysia and soon become Hong Kong's kung-fu queen known for performing her own stunts ever since her first action film 'Yes Madam'. In 2001, Michelle was conferred the title of 'Dato' and then 'Dato Seri' in 2012 by the Sultan of Perak, Malaysia. In March 2012 she was awarded the "Officier de la Légion d'Honneur" by French President Nicolas Sarkozy. In 2014, Michelle was conferred 'Tan Sri' by the Malaysian state government, which is the second most senior federal title and honour in Malaysia.
About Federation Internationale de l'Automobile (FIA)
The FIA is the governing body for world motor sport and the federation of the world's leading motoring organisations.
Founded in 1904, with headquarters in Paris and Geneva, the FIA is a non-profit making association. It brings together over 235 national motoring and sporting organisations from more than 140 countries on five continents. Its member clubs represent millions of road users and their families
On issues such as safety, mobility, sustainability and consumer law the FIA actively promotes the interests of all road users at the United Nations, within the European Union and through other international bodies. The FIA is committed to global road safety initiatives through the FIA Action for Road Safety campaign.
For more information: www.fia.com
About National Geographic Channels International
National Geographic Channels International (NGCI) inspires viewers through its smart, innovative programming that questions what we know, how we view the world and what drives us forward. A business enterprise owned by National Geographic Ventures and FOX Entertainment Group, NGCI contributes to the National Geographic Society's commitment to exploration, conservation and education through its six channels: National Geographic Channel, National Geographic Channel HD, Nat Geo Wild, Nat Geo Wild HD, Nat Geo People and Nat Geo Mundo.

Globally, National Geographic Channel (including NGC U.S., which is a joint venture of NGV and Fox Cable Networks Group) is available in more than 440 million homes in 171 countries and 45 languages. In Asia, the National Geographic suite of channels is operated and distributed by FOX International Channels.

For more information: www.natgeotv.com.
About International Federation of Red Cross and Red Crescent Societies
The International Federation of Red Cross and Red Crescent Societies (IFRC) is the world's largest humanitarian network that reaches 150 million people through its network of 190 National Societies and 17 million volunteers. The IFRC acts before, during and after disasters and health emergencies to meet the needs and improve the lives of vulnerable people. It does so without discrimination as to nationality, race, religious beliefs, class or political opinions. By improving humanitarian standards, working as partners in development, responding to disasters, supporting healthier and safer communities, IFRC helps reduce vulnerabilities, strengthen resilience and foster a culture of peace around the world.
For more information: http://www.ifrc.org/en/

About Prudential Corporation Asia
Prudential Corporation Asia is a business unit of Prudential plc*, comprising its life insurance operations, and asset management business, Eastspring Investments. Prudential is a leading life insurer that spans 12 markets in Asia, covering Cambodia, China, Hong Kong, India, Indonesia, Korea, Malaysia, the Philippines, Singapore, Taiwan, Thailand and Vietnam. A leading life insurer in terms of market coverage with more market leading positions than any other insurer in the region, Prudential has more than 550,000 agents and employees across the region serving over 14 million life insurance customers.
Eastspring Investments is one of Asia's largest asset managers with operations in 10 markets plus offices in North America, the UAE, the UK and Luxembourg, and £85.3 billion in assets under management (at 30 June 2015).
*Prudential plc is listed on the stock exchanges of London (PRU.L), Hong Kong (2378.HK), Singapore (K6S.SG) and New York (PUK.N). Prudential plc is not affiliated or related in any manner with Prudential Financial, Inc., a company whose principal place of business is in the United States of America.
For more information: www.prudentialcorporation-asia.com