Newsroom
PRURide PH 2019 registration now open
Register now until January 15, 2019 to get discounts and freebies!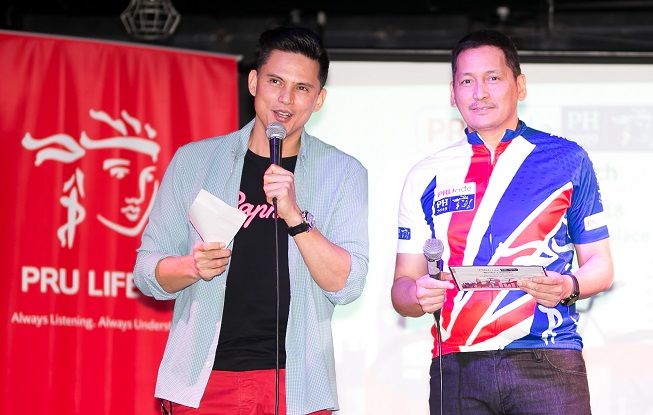 British life insurer Pru Life UK has launched PRURide PH 2019, the country's largest cycling festival, following the success of the 2016 and 2018 events.
PRURide PH 2019 promises to be bigger and exciting as the festival is once again set to gather the strongest and most competitive cyclists from the Philippines and across Asia. To be held in Filinvest City, Alabang in April and Subic, Zambales in May, more than 2,500 cyclists are expected to participate in 18 challenging categories of all expertise levels. There will also be fun activities for the whole family, such as the Strider Cup, a no-pedal balance bike competition.
Kicking off the excitement on April 7, 2019 are the high-octane races of the PRUride Criterium, which will be held at the Filinvest City in Alabang. In this event, local talents will compete in different categories, including fixed gear, road bike, mountain bike, and folding bike races, among others.
The second leg of the festivities will be held at the Subic Freeport Zone from May 24 to 26, 2019. Highlights of the weekend will be the PRUride UCI 2.2. Stage Race, a three-day stage race which will see 20 top teams from the country and across Asia compete for individual, team, and stage honors. Recognized with a 2.2-accreditation by the Union Cycliste Internationale (UCI) – the world's governing body for cycling – PRUride PH 2019 is included in the UCI World Calendar and will allow the pros to chalk up UCI points required for entry into the 2020 Olympics in Tokyo, Japan.
Amateur cyclists will also have the chance to join in the fun with the new masters single stage race as well as the non-competitive Gran Fondo in 30, 60 or 100 kilometers.
Register now until January 15 2019, at www.pruride.ph to enjoy the early-bird discount rate and get limited-edition freebies. All participants will receive a PRURide PH 2019 jersey and all finishers will take home a finisher medal. More than PhP 2 million worth of cash prizes will be up for grabs.
PRURide PH was first staged in 2016 by Pru Life UK to engage the growing cycling community in the Philippines, raise awareness on cycling as a sustainable alternative mode of transport, as well as to promote health and wellness through the sport.